Name:
Sixlis, Urang
Alias/Epithet:
Organ Gorgon
Race:
Human
Gender:
Male
Age:
47
Occupation:
Only wants Doctor.
Affiliation:
Marine
Devil Fruit:
Organ Organ no Mi, indefinitely maintains organs and their durability after death. Can use on already rotten corpses and increase their durability. Mainly uses devil fruit to make them strong enough for T0 civilians to be unable to get rid of their relatives that won't decompose after rotting partially, but he also has a passive that allows him to carry around corpses of higher tiers as shields.
Tier:
5
World Position:
Shichibukai
Equipment:
A gun that shoots out T5 bullets made out of T5 corpses. Magical amount of T5-6 bones from the corpses of people.
Haki Aura:
Pugilist
General Appearance: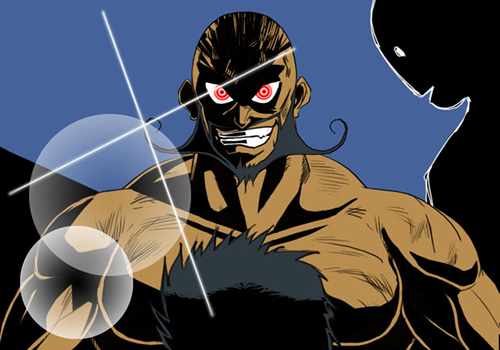 Urang is freakishly built. Focusing primarily on martial arts, he has a personality truly the opposite of his appearance normally. Frequently, Urang likes to adorn skin clothes of strong individuals he's conquered with his devil fruit. Occasionally, he likes to rip off somebody's scalp and shove it into his chest as a fur ball after letting it continue growing through his devil fruit. The rest of his skin is shaved except for his extravagant beard. Red eyes are the only non-neutral color found on Urang's body.
Height:
6'4"
Weight:
250 pounds
Personality:
Urang is addicted to approaching war torn battlefields. His entire life and schedule revolves around subjugating former residents of a region in areas that were destroyed and made into bloodbaths. Urang's personality shifts depending on the area he is in that had a battle, but he always enjoys talking about corpses and how he unearths graveyards. Urang is needlessly paranoid, and he'll often be seen carrying human shields on his back. In battle, Urang likes to slowly approach his opponent with his shields and then kill with his gun as he can't aim well. Additionally, he isn't against using his crew as bait or pretending to be dead, but loves his crew as he gives them shields too. Normally, he won't use animal shields to empathize with his crewmates, but he will as a last resort and if his crew isn't watching.
Socially, Urang is also obsessed with training. The reason he wanted his fruit in the first place was because he was dissatisfied with normal training dummies. If he finds his crew isn't keeping up to par, Urang forces them to use their dead relative as a training dummie for as long as he pleases. Sadistic, Urang frequently likes to find out the flaws of his opposition and force them to confront them through their friends being used against them. Urang is also sometimes unnecessarily erratic, and he'll berate his crewmates for inflicting permanent damage on individuals he deems as respectable training dummies. Overall, Urang has an unusual respect for the dead over the living, and could be considered a nice guy in his own way. One of the most endearing scenes his crewmates can witness is him stitching on a new face to a dead child.
Crew:
Fertilizer Pirates - Their ship is full of corpses and their families. The reason they follow Urang is because they want to continue to see their family in relatively preserved conditions. The majority of them are vegetarian.
Specs:
Hand to Hand:
5
Melee Weaponry:
5
Devil Fruit:
1
Marksmanship
0
Haki:
A