Task:

Melissa Devaroux wrote:

Task Name:

Ohmyohgod DRAGON

Tier:

3

NPC or PC:

PC

Location:

Paradise

Crew, Team, or Personal:

Melissa and Naga

Description:

Exploring surrounding Islands prior to setting food upon Enies, the two women have heard of strange rumours, a town seems to be terrorized by a creature long thought gone. A dragon. Now come on, who the fuck is going to pass up the chance to see a dragon. Of course they are going to go.

Enemy Details:

1 tier 4 dragon

Boss:

Appearance:

Boss Name:

RedHood

Tier:

4

Description:

Acnologia is mastodonic, and has an entire upper body covered in black, round, scales, which, in turn, are decorated by spiraling, blue markings. His lower body, specifically his chin, chest, stomach, inner tail, thighs, and arms, are gray in color, and appear to be rather smooth. Acnologia's eyes are white and beady, and his head is round and blunt with four, large, elongated plates extending backward. Acnologia's mouth is full of razor-sharp teeth, and, attached to his chin, is a protrusion that resembles an arrowhead. His large wings are feathery in appearance, akin to a bird's, and very similar to terror birds. The scales disappear at the end of Acnologia's tail, which, in itself, ends in a stinger-esque shape. The Full form of the dragon height is about 56 feet and his weight is 1650 lbs. Wing spread is about 25 feet from right to left.

Devil Fruit:Haki Aura:

Savage

Equipment:

Flame Dial - imbedded in to mouth

Heat Dial imbedded in to all claws

Ice Dial - Imbedded in to mouth

Solar Dial - Imbedded in to mouth

Jet Dial - Imbedded  in to mouth

[All dials are tier 3]

Specs:

Hand to Hand 5

Marksman 4
MELISSA#DEVAROUX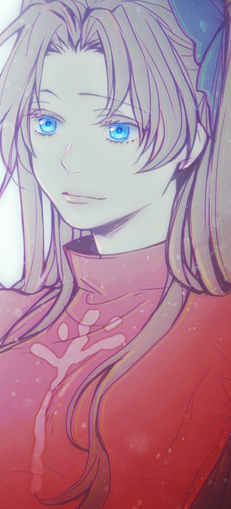 The sun would shine ever so gently, the clouds parted yet Melissa had learned not to rely upon the grand line weather. It could change as effortlessly as her mood swings. Her outfit was so girly, she had dolled herself up. Two black ribbons held her pig tails together. Upon the right side of her head a slanted red top hat, small in stature with a black sash wrapped around it, a red half bloomed rose in the centre. Her red dress showed her figure, yet it expanded, flowing out at the bottom, to the top of her knees. In the centre of this dress a black design much like a maids was knitted in to it, All the way up to her neck. A large black bow with a red rose and white embroidered pattern gently upon her neck. Black long tights and red shoes with slight raised heels. A jacket, red that seemed to blend in with her dress completed such a strange outfit. Yet upon the girl it looked magnificent.
Stretching her arms, the young female would look to the two people whom had accompanied her on this mission. Naga, the captain of the crew, and the man whom now possessed her log pose, Flash the navigator of the crew. Melissa well, she was the muscle and the sarcasm. The eccentric female would grin. "Gotta admit, its nice to be on land, let's go see if we can find anything cute to buy" Melissa would say as she slightly adjusted her hat. Smoke rose in to the air, it had been rising since they arrived on the large island. Apparently it was littered with villages and towns but it seemed to have no pull on the log pose. They had stopped due to needing supplies before continuing their journey to enies.
With a spring in her step, Melissa Devaroux would bound upwards through the grassy terrain, the island was full of lush tree's, berries of strange colour, fruits of strange shape all appeared upon the trees. Animals that looked strange, somewhat hybrid like would occassionally be spotted every now and again. Every now and again she would pick up some of the strange berries and pocket them. She would show them to Mea, the doctor and see if she thought anything of them, if they were poisonous or not. It was a good idea to bring anything they were unsure of back to get an analysis of them. Screams would be heard, muffled from the distance. "What the hell...whats that" she uttered, taking off to find the source.
What she saw was shocking, the reason for the smoking had become clear. Melissa devaroux stood upon the edge of a village, a village decimated. The smell of burnt flesh filling her nose. She tried hard not to gag. People were wounded, some crying over bodies that were recognisable, some trying to find id from the burnt ones. "What could do this" Melissa would utter. The ground had foot prints, easily big enough for Melissa to lie in the centre of and have naga and flash lined up behind her. What had this been.
WORDS: 432// TOTAL WORD COUNT: 526 || NOTES: Remember to hit 400 words per post || POSTCOUNT: 1