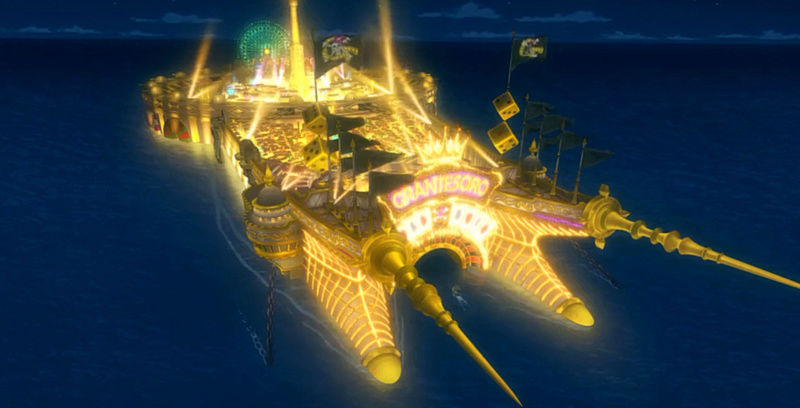 Island Description:
New Jaya is a ship that is close to the size of a Island. And is considered a Island ship. It also goes by the name of Gran Tesoro.  A large portion of the Gran Tesoro is composed of gold, and its bow resembles a cruise ship, only much more massive in scale. The entire ship is ten kilometers long and a city is built inside it, with no roof covering it. The stern is a large circle with a tall golden tower in the center (designed to look like a roulette wheel), and at the very back is a large green area (designed to look like a card table). The front of the ship allows others ships to enter inside the Gran Tesoro. Its name and two pirate flags can be seen when entering the ship. Due to it's size and it occupying a area that used to have a Island and combined with the status of the Shichibukai Stede has become it's country.
To fend off against Sea king, or at least keep them at bay, the entire hull of the ship is comprised of Sea Stone. Beli is power and with more of it the more access you are given to places. As the ship is broken up into three sections. Upon entry to the Island a person, or a group as a whole, will need to purchase a pass. Each pass various depending on how far and how much of the Ship you wish to explore. The first pass costs only a million beli( per person). Or someone can pay for a group pass, which is five million. The difference between a regular pass and a group pass is that you need to be with your group the entire time. If someone wishes to enter the second section of the ship they must pay a price of five million beli(per person). And a group pass for twenty million beli. Finally, the cost to enter the third section is fifty million beli(per person). And a group pass for one-hundred fifty million beli.
Finally there are Eternal Passes that can be given out. These passes allow someone to not have to pay for anything on the Island and the ability to explore the entire ship, besides the Captains quarters. Each employee that works on Grand Tresoro owns one of these, but they face is on this pass to prevent them being stolen. Also, many employees are people that lost their money and had to work their to repay their debts. So, where able to pay those debts off with work but choose to stay as employees.  
Top view:
There is a train, similar to that of the Sea Train, that runs through the entire ship. From the entrance all the way to the end of section II.
Rules of New Jaya


No one without a pass is allowed to roam around freely. If caught without a pass they will be immediately removed from Island, if unable to find their pass within twenty-four hours. You will have a guard walk with you within that time fram. If you are able to find your pass you will be fined double that of your pass.    


Fighting can only be done in designated areas. If caught fighting you will be punished.


If someone is unable to pay for a service they must become a temporary employee(at that establishment) till their debt has been paid.


Theft of any kind will not be tolerated. Those caught in the act( by staff) will have their arm severed. You are able to file a report but without evidence you will be out of luck.


Tapering with the Ship in anyway will result in your execution.


Bounty hunting by anyone is not tolerated, and you will be ejected from the Ship.



Note: Below are brief description on the section on the Island Ship.
Downtown Section I:
Section I is mainly comprised of living areas as well as small businesses. Cheapest area on the entire Ship where may people one the ship considered lower class live. Even holding a few schools other types of public facilities seen in many modern communities. This area is the second largest as the entrance also is considered part of Section I.
Downtown Section II:
Casino interior :
Species:
Influence:
Status:
(Claimed, Unclaimed, Stabilized)
Log Pose Point Requirement:
17
Population:
(1-6)
Housing:
(1-6)
Army:
(1-6)
Weaponry:
(1-6)
Technology:
2