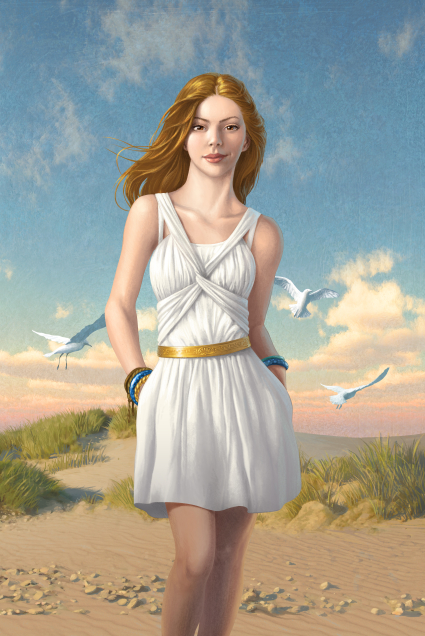 Name:
Calypso Atlasbreaker
Alias/Epithet:
Enchantress
Race:
Winged
Gender:
Female
Age:
18
Occupation:
Navigator
Affiliation:
Undeclared
Use:
Combat
Tier:
5
Equipment:
Haki:
Observation
Haki Perks:
Sixth Sense and Empath
Attribute Priority:
Speed
General Appearance:
Calypso is described to have cinnamon-smelling caramel hair that is braided over one shoulder, almond-shaped eyes, and a face that appeared to be timeless. She wears a white sleeveless Greek dress with a low circular neckline trimmed in gold, and seems to radiate a natural glow in the moonlight. Most people say that it is difficult to tell whether she was 18 or 30 due to her timeless features, but most find her to be "twice as brilliant" as the stars, and far more beautiful than even the the Goddesses themselves. Her wings are as white as snow and have a span of 8 ft.
Height:
6'0"
Weight:
175 Pounds
Personality:
Calypso is kindhearted, and caring, yet could be feisty and rebellious, not liking the fact that she had to fall in love simply because her mother and father wanted her to as a punishment. She is very shy around people she doesn't know as she has been cursed to feel love towards mostly everyone, causing her to hide her true feelings. She also has a warm heart, telling Ryuichi that even if her father is a marine, she still loves him and has no anger toward the marines for trapping her in a tower. She shows a level of curiosity to Ryuichi, asking him about how the world has changed in the time she has been trapped and feels bad that there is a place where killing is being done. She is also very down to earth. Being able to take anything in as she feels that nothing will ever bring her down.
Story:
I will describe to flashbacks Ic


Last edited by Ryuichi on Tue Jun 27, 2017 7:24 pm; edited 3 times in total