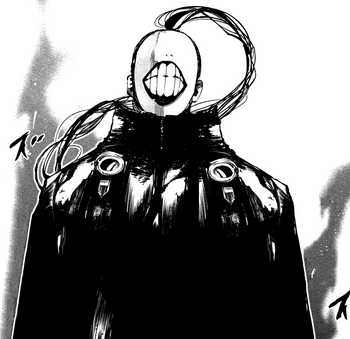 New Jaya could be spotted miles away, it being the light in the darkness. It was refreshing to see that a New Island, though made only for profit, had been constructed in the place of old Jaya. A Island that Derous had briefly been on in the past. Though, it was only to follow the tracks of Cappadonna. Derous never got to come back here after that, until now, due to the Island being destroyed by a Buster call.
"I can smell the corruption from here. "
"Maybe you are smelling yourself, Derous."
"Maybe so." Derous would say as their escort ships moved closer and closer to the impressive Island Ship. This was the first time Derous has seen anything like this. He had heard rumors of ships being built like this, but never has he seen one. He, honestly, wished that he was the one to make such a place. The Beli he could've made would've gotten him out of his predicament and furthered his goals. But, maybe he would have to do something else.  He did though need to focus on getting a new hand. Derous would raise his stub and look at it, as he had never lost a limb before. Getting a cybernetic could be nice, but he didn't have the resources or trust to have one put on him. Maybe even going simple and putting something there, like a hook, would be nice to have.
They would dock and disembark the Escort ship. Everything that he brought would be removed from the ships, carried by his Agents. Well, they would be placed on lavish carriages as they'd be to heavy to carry all the way to the Golden Tower. Gruff, as well as the other Agents, had already received their passes for access around the Ship. Gurff mainly because with a Celestial Dragon in charge here he needed to make sure everything was secure. It did not take long for them to make it to the train and load up everything, keeping a entire box car just to him.
Derous took his seat and gazed out the window, he sat alone. The amount of luxury, in this section, was amazing. 'I wish I had this place.' Was the though that crossed his mind as he closed his eyes. He wasn't sleeping. When he had reached the Island he began to hear everything. Though this place glittered and shined, it wasn't long before it was just like Baltigo. A cesspool of many different, usually, illegal things. But, what usually is illegal on other places might not be here. Derous was fine with all of that though, and he wouldn't be the one to stop it. He probably was going to indulge in some debauchery soon anyway. Soon the Train would stop and his things would be unloaded. Derous would wait to all of his items had been removed before he moved from his spot. They still had just a ways to go, but the Golden Tower should be close. No, it was close. Derous could see it when he first came to the Ship Island, everyone could. It wasn't something hidden from sight.
Derous would step out of the carriage and it would begin to rain, hard. It was around nine pm, but the clouds had blanketed the skies and made it seem later than that. It raining was strange, but also out Derous a bit at ease. "Quickly bring everything in." Derous would tell his agents, and they would do as the Director said. Quickly, they'd make it inside of the Golden Tower. And it was nothing like outside. Everything outside of this Golden Tower, just the lower level, was more other wordy than anything Derous has ever seen. He spot many Nobles from across the world, and other of vast wealth having drinks and what not. He wouldn't get involved with them though. He didn't have the right nor wanted to.
"Do you wish to have a room on the upper levels?" The Female Receptionist would ask Derous.
"No, I want to have one on the lowest." Derous responded.
She would not look at him, "Sorry, but we don't have any lower levels."
Derous would search around his pockets for a note and would remove it. He'd then place it in front of her. "I don't want to speak more about this. But, this letter gives me the right to that room." Derous would say.
She would look over it and then at him. "Here is your key, please have a good time."
Derous would take the key and head, along with those with him, over to the elevator. It was spacious and could probably hold more than fifty people. So Derous and his band of twenty agents were enough. The employee in the elevator would be told of where to take Derous and he would also hesitate for a second. But, soon the elevator would be lowered.
"Everything but the body, take it away. I will stay here alone." Derous would say as he would grab the wrapped up course of the Red King and walk off of the elevator.
"Yes, Director Gruff." The Agents would say. It seemed they would not be allowed to stay on this level with him.
At this moment Derous was at the entrance to the lower level of New Jaya. Down here there were various ways to get to the plumbing system hat runs through the Island. Though, this area wasn't as lavish as the top floor of the Golden Tower it was still magnificent. And people coming here would be rare, as why would they. Royalty loved to be at the highest. The higher you were in the Golden Tower the more important you were. Though, coming down here would be easy to do for someone like a Cipher Pol Agent or Celestial Dragon. Celestial Dragons because they could go anywhere they pleased. And Cipher Pol Agents because it was their job to protect the assets of the Celestial Dragons and also the World Government.
'Oh, wow. This material would be able to even withstand that mode I used against Ren.' Derous would think to himself as he would strike the wall. The material this place was built on was out of this world. It could compared or even superior to Seastone. Derous would stop admiring and go to the center of the room, and would place the corpse there. "Welcome to New Jaya, Junbei."