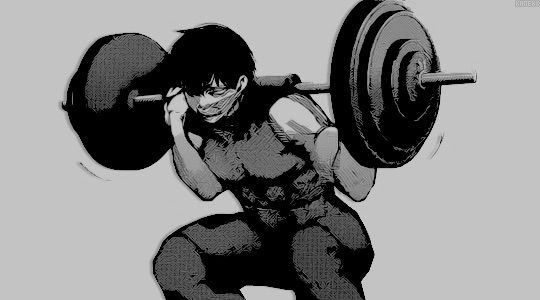 "Down! Up! Down! Up!" A large, Canine, Mink would tell Tenzen as he crouched and rose. The barbell that he held being of unimaginable weight, for someone his size. Tenzen, after he had been hit with that Age Devil fruit, wasn't only sent back in age but in size. No longer being six foot four inches, but five foot and eleven inches. Compared to the size of many people within Paradise, and not to mention New World, he was short. Many people would tower over him and thing their height, and muscle mass, made them Superior. Though, Tenzen knew that no one was superior than him he would train his body to it's absolute limits. Sweat dripping from every part of his body, as this wasn't his first work out. He had been doing more the entire time he has been here, which has been a week. Arriving not that long after he had left Marineford, escaping someone that was posing as Anubis. He been thinking about that a lot. Not someone impersonating that srub but the ability to do so, as he wanted to. And with his Devil Fruit it shouldn't be hard at all to do such a thing.
"Hey, the News Coo just arrived!" Someone would say as they would barge into the room. Waving the news coo back and forth, as he walked over to Tenzen and the Mink. Tenzen wouldn't stop working out as the Mink stopped talking to read the News Coo. Where they currently were at was the living district. This Mink had bought a entire building and turned it into a gym, with many levels. This level was at the tip top of the seventeen story building, and was for special people. People like Tenzen or someone at the same skill level. Where they could train without people focusing on them more than themselves. Tenzen also was paying to get some training from this Mink.
Training Room:
"Take a break, Tenzen. And read this." The Mink would say as he would place the paper on a table and head out of the room. He needed to go check downstairs for something, and probably won't be back today. Tenzen would be fine with that as he had been training for ten hours straight and could use this break. Tenzen would drop the weight on the ground behind him and walk over to table, which also had his Den Den Mushi on it. He would read over the News Coo. It spoke about the Yonko, The Red King, playing games with the Pirate King. Something that he found funny, and wished he was there. As though Tenzen no longer sought the head of Oceanus he still did accept him as the King of Pirates. The next, main, article was talking about the anniversary of when two up children, what he calls them, took down two Shichibukai. Tenzen really didn't care about the Shichibukai, as they didn't have any true purpose. Just Pirates that were given leeway to do whatever they wished; only having to do few acts to keep that trust. Tenzen though wouldn't mind becoming one if he could, since he was now branded a Pirate. Even though is was just a criminal of Justice.
"Oh, this was fast." Tenzen would say as the next main article would be for him. He did not think that they would allow what he did to be published. Maybe put his new bounty, which he though would've been higher, and say that he was a extremely dangerous person. As he continued to read he wondered if he would need to lay low or use this as a way to become more. Become a symbol that stood for what is right. Not a foolish Pirate. Or a self righteous Revolutionary, who just want a power grab. He could become more and help the World become a better place. A place within his own image. He would though need to do something to grow his fame, and also a place to become his own. Skipping the Titan article he would see something that would do just that.
"Bingo!" He would say as he would slam his hands onto the table, as he grew in excitement.  But then concern came into his mind. He wasn't prepared at all for something of that scale, he was still lacking. He needed a divine sword and also needed to cut with his strings better, after what happened on Marineford. He couldn't cut the impostor, even if he was using his Clone to do so. As his Clone was the strongest thing he could create at this point. And if that couldn't do it then he wouldn't be able to stand against those he wishes to take out. The Yonko, Admirals, and Revolutionaries wouldn't be fazed by him.
"I will do better." Tenzen would say as he would split his energy in two, creating a clone of himself. And he would turn around to face the Clone. His biggest obstacle was himself right now. So, he would face off against himself. Later though he would have to see if he could go and get a sword forged.
Hours would pass by and Tenzen would be laying on the floor, exhausted as his Clone stood over him. Going at someone that wouldn't get fatigues was tough, and he had lost. He couldn't even cut the Clone with the weapons that where here, but he knew that. That was another reason he needed a good sword. As if he couldn't even cut his clone he wouldn't be able to deal damage to anyone more durable. To regain his energy he would absorb the Clone, and also go wash up. And afterwards he would relax in this room of his, as he didn't want to roam the streets without a destination. He would make calls to various people trying to find out who on this Island could forge him something great.