Task Name:
Heist of a Lifetime
Tier:
3
NPC or PC:
NPC
Location:
Alabasta
Crew, Team, or Personal:
Personal
Description:
Before journing off once again through the Grandline, Ryuichi knows he is running low on Beli so the only way to regain the currency that he has lost is to once again rob one of the many banks of he Sandy Kingdom. This time he is trying to pull a heist on one of the most biggest banks in the Sandy Kingdom. Do it quietly and he may receive the full payout. But cause racket then he may just encounter the Big Bad Guard and if he beats him he can rob the whole bank instead of a portion of it.. Can Ryuichi pull off the heist of a lifetime?
Enemy Details:
If he chooses the noisy route there will be 50 Marine Ensigns (Grunts) and 1 Boss
Boss:
Yes
Boss Name:
Big Bad Guard
Tier:
4
Description: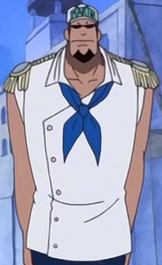 The head guard of the Archipelago Bank Chain is itching for someone to attempt a heist on his place of employment. Being shot down to the lowest of the low in the marines. He knows that in order for him to raise back through the ranks he must stop people from robbing the banks. However, stopping people means being good in combat. Will the 14 ft tall brute weighing 400 pounds be able to defeat Ryuichi?
Devil Fruit:
None
Haki:
Armament Haki- B Rank
Equipment:
Flintlock Pistol (5 Bullets)
Strength:
4
Durability:
3
Speed:
2
Perception:
2


Last edited by Ryuichi on Sat Jun 24, 2017 8:11 am; edited 2 times in total