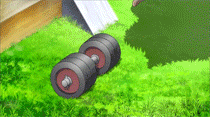 Priority:
Secondary
Fighting Style:
Devil Fruit
Skill Set Name:
-
Skill Set Information:
-The user can control the movement of himself and non-living things, once he has touched them. It allows things under his control to levitate. The user could also reshape or destroy (by breaking apart) items under his control. He able to cancel or manipulate the hold of gravity.
Passives:


(Lvl then Description)

(Lvl then Description)

(Lvl then Description)

(Link to purchase of passives)
Skillset Strengths:


wielder's ability to control through levitation things after touching them once. Essentially, this ability is identical to telekinesis

"able to cancel and/or manipulate the hold that gravity has on an object"

As long as the user is conscious (sleeping is an exception) items will stay afloat (regardless of range). unless user is defeated or wills otherwise

Skillset Weaknesses:


Cannot float what user has not touched

Cannot float living things other than self.

Nothing moves automated, objects must be continuously willed to move.

Notes:
Size diagram:
Float chart:

200lb T1 - Rowboats
350   T2 - Floops  - Barque
750   T3 - Galleon, Frigate, Typical Submarines
1000 T4 - Man of War & Ship of the Line
2000 T5 -
3000 T6 - Warships, Queen Anne's Revenge, Airships
Floated objects keep their weight/force, unless otherwise indicated.
Can use this outside combat for minor things 5m range.
Objects floated that aren't being moved don't drain stamina. The user pays upkeep cost to make cost to make items move again
It cost no stamina to release items from floating.
Attribute Priorities:


Primary Perception

Secondary Speed & Strength +1 (Dwarf and fate predator)

Durability

Tier 1 Skills:

Skill Name: - Movement I
Tier: -1
Type - normal
Range: - 20m
Speed: - II
Description: - Aloeus will control items things he has touched within range to form simple task/attacks. These actions are basic things that could be done with hands that don't require dexterity. (Painting, writing, instrument play dexterity. No complex flight patterns... Aloe can also fly with this skill and make objects feel lighter so that someone could carry more. (Think Shabondy bubble coat bag)

Skill Name: -
Tier: -
Type -Devil fruit
Range: -20
Speed: - II
Description: -

Skill Name: - Orbit
Tier: -1
Type -Defense
Range: -10m
Speed: - II
Description: -Using several objects no more that 3ft by 2ft (but this isn't required) the user spins them simultaneously. These objects will repeatedly beat and batter a target. This can also be used defensively to keep enemies from approaching or getting a direct line of sight.

Tier 2 Skills:


Skill Name: -Crowded Arena
Tier: -2
Type - normal
Range: -15m, AOE 15m diameter max
Speed: -III
Description: -Several objects will be floated around target. When used offensively objects will slam into target crushing them under force. This ring around the target can grow larger to incorporate more targets or smaller...This move is meant to serve as deterrent for the target from moving or slow them down so they have to move more cautiously. Depending on the objects used it could also hurt target should they try to escape the ring. The objects can be left to float around target, not moving.

Skill Name: - Ring Out
Tier: -2
Type -Offense
Range: -20m
Speed: -III
Description: -A segment of Floor/ground/wall... will break apart 15mx5m up to three feet deep and raise up and towards the direction the user wills. This large mass can be left in the air, dropped, or slammed into a target. Unless this mass is pulverized any superficial break offs will just result in Aloeus putting it back together.

Skill Name: -
Tier: -
Type -
Range: -
Speed: -
Description: -


Last edited by yakaryu on Thu Jul 06, 2017 1:28 pm; edited 5 times in total