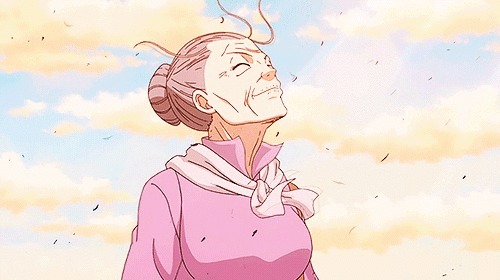 Name:
Elpheba Hurozona
Ephitat:
The Paintress
Race:
Kuja
Tier:
1
Gender:
Female
Age:
73
Mode:
Hard
Occupation:
Doctor/Navigator
Affiliation:
Marine
World Position:
Noble [Fate Point]
General Appearance:
Elderly Appearance:

Standing at a modest 5"4ft, the young woman has a gentle crook in her back causing her a rather unflattering posture. Her hair is generally kept up in a large bun and is like most elderly peoples grey in colour, two long lines of hair flow down the side of her face framing it in a heart shape. Her face is wrinkled and worn with time, while her eyes, blue gentle eyes sparkle.

Her attire isn't incredibly polished, generally in her every day attire she wears simple clothing, a large puffy top that is in an array of colours, though her favourite is purple, a light coloured sash generally off from her top wraps around her waist while a beige skirt flows generally down to her legs. Now underneath this attire, she actually keeps a much baggier attire below her that fits perfectly upon unleashing her secret.

Height:

(5"4

Weight:

58Kgs

Crew Tattoo Placement:

N/A
Younger Appearance:

Long beautiful black hair flows gently down to her bossom which have enlarged in her transformed state, much more beautiful than she was prior and having de-aged, the young woman now stands even taller at a hieght of 5"6 and no longer walks with a crook, able to stand on her own two feet requiring no walking stick. In this form she her wrinkles vanish and her complexion becomes perfect. She is a beautiful tall woman. The attire mostly seen in this form is a bit more seductive, having shed her old lady attire and grown in to the baggier one she keeps underneth, revealing her arms and parts of her legs. Her gloves are pulled from her sash and put on while she puts a ribbon through her black long hair.

Height:

5"6

Weight:

62kgs
Personality:
As an elderly woman, many would believe that Elpheba should at in accordance with her age, senile? cranky? and so forth, yet this is completely wrong, she has such a childlike demeanour, she is funny and very rarely is she serious, picking fun of those officers whom have such a vastly strict demeanour while at the same time adding a pinch of "grandmothery" pinching someones cheeks or oggling over them. Even at such an old age she is flirtatious with all the younger men of the military and even the older ones, really she has no grievance against them.
Very rarely angry unless being forced to deal with pirates, having been a marine for many years, she had no hatred towards pirates but preferred the side of the law, upon her family being decimated by pirates her anger towards all those whom fly a pirate flag is unparralleled, she rarely likes to let a pirate live or serve time in jail, perhaps the only criminals she would gadly destroy regardless of the crime, if they soar under a pirate flag then they should be put down like the mutts they are. She has been known to strike members of the marine core whom ever attempt to offer immunity to the pirates. In her younger days she was a terrifyingly fearsome foe and her name still sheds fear in those of her generation, alas though her capabilities have weaned and she is less comfortable within them.
Even now at her age she would still prefer to be on the front lines, being a medical officer all her life she hates when marines lose their lives and when she is not their to help, after the destruction of her family, her body not being what it was she lost most of her abilities, focusing on her painting skills. Having been laughed at for returning to th emarines at her age, she also would like to prove that she is not some mild and meek old lady who is past her prime.
Likes:
Teasing others
Laughing
Chocolate
Dislikes:
Pirates
Marines whom submit or feel bad for pirates
Diapers.
History:
*Born in winter
*Born to a family of marines
*Joined the marines at age 13
*Caught many pirates during her time
*Ranked up from ensign to Rear Admiral at age 24
*became famou in the marines for capturing Blood red Harry and his pirate gang
*Ranked up to Admiral
*Served as Admiral for many years
*Had a child at age 30
*left the marines at age 60
*Family was killed bythe Yonko Taisen Yamamoto and his crew
*Rejoined the marines with plans on getting vengence on Taisen at the age of 66
*Current age 73,currently classified as an ensign.
Bonus:
Tier 1 [at tier 3 free fate point]
Fate Point Allocation:
Race Change [1] Kuja race change
Hard Worker [1] - You can possess a Secondary Occupation.
Diligent Spirit [1] - You can choose a Specialization in your Secondary Occupation. Must have purchased Hard Worker.
Born to Brawl [1] - The user gains access to Buso Haki
Gold Blood [2] - Start as a noble, [Owning Gubo]