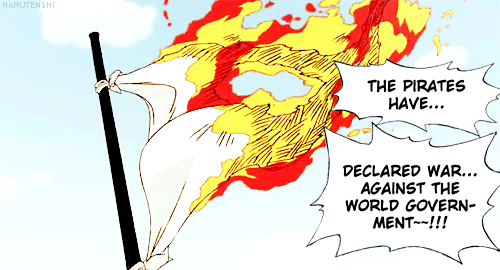 Cipher Pol 8 :

Boss Name:

Eris

Tier:

5

Description:

Isabella has long flowing sky blue hair which stretches down to hair waistline. It's often bunged into one using several hairpins but that's only when she's on missions. Her bright Royal Purple eyes are her most bewitching trait and she's known often where long flowing black Victorian style dresses. She carries her blade on her back, which is arced diagonally for quick access when unsheathing it for combat.

Devil Fruit: Haki:

All - S

Equipment:

Cursed Blade - Tier 6

Strength:

6

Durability:

4

Speed:

4

Perception:

6

Boss Name:

Juego

Tier:

4

Description:

Juego has been working for the World Government as an operative since he was five. Being the son of a World Noble, his allegiance to the Marine Corps and the government are all pawns in his and his family's hand to keep relations between the two forces open.

He's fun loving, often offering cryptic jokes and dark stories from his younger days in the lower ranking Cipher Pol. He's wise beyond his years, knowing much about the World Government's origins and the history of the Celestial Dragons, though, he tends not to ramble about such things if need be.

Devil Fruit:

Phase Phase Fruit

Haki:

Kenbunshoku Haki - B

Equipment:Strength:

4

Durability:

4

Speed:

6

Perception:

6

Boss Name:

Daisy

Tier:

4

Description:

Daisy is one of the most brilliant scientists on Tres Lotus but her nature of been a NEET, keeping to herself and coding has made working with the Cipher Pol complicated. When it comes to mecha, she's the best in the world, be careful. Her tech and Cipher Pol skills make her one of the most dangerous of the lot.  

Devil Fruit:

N/A

Haki:

Kenbunshoku Haki - B

Equipment:

An array of Pacifista Rejects and Gadgets.  

Strength:

4

Durability:

6

Speed:

4

Perception:

6

Boss Name:

Hamon

Tier:

4

Description:

Hamon despite his colossal stature of 7 ft is someone whose very warm and gentle, towards animals that is. Hamon hates humans and as a mute, he isn't big on conversation either.

Devil Fruit:

N/A

Haki:

Kami Bushoshoku Haki - B

Equipment:Strength:

7

Durability:

6

Speed:

4

Perception:

4

---

Boss Name:

Cain

Tier:

4

Description:

Cain is the leader of the Cipher Pol Eight. He's also known as one of the most enlightened men alive, eating the Human Human Fruit gave him taboo knowledge of the world.

Devil Fruit:

Hito Hito No Mi - Model: Human

Haki:

All - A

Equipment:Strength:

5

Durability:

3

Speed:

3

Perception:

5

Boss Name:

Sven

Tier:

5

Description:

Sven is a play boy by day, assassin by night and faith in getting the job done is unparalleled. He's Eris' protege and his prowess with a blade is second only to her.

Devil Fruit:

N/A

Haki:

Haoshoku and Kenbunshoku - S

Equipment:

Cursed Blade - Tier 6

Strength:

6

Durability:

4

Speed:

6

Perception:

4

Boss Name:

Kon

Tier:

4

Description:

Mastering the art of Life Return, Kon has learned to turn the simplest nail on his body into a weapon. He's a fun loving cheerful character, always seeking to have a good time once it isn't related to business that is. His policy is to kill on sight, using his opponents weaknesses or short comings to his advantage.

Devil Fruit:

Luck Luck Paramecia

Haki:

Busoshoku Haki - A

Equipment:Strength:

3

Durability:

6

Speed:

3

Perception:

6

Boss Name:

Ur

Tier:

4

Description:

Blood thirsty and ruthless. Ur learned assassination techniques for his own personal interest and intrigue in killing. He's not a man to toyed with or underestimated. You might end up dead.

Devil Fruit:

N/A

Haki:

All - A

Equipment:Strength:

6

Durability:

3

Speed:

3

Perception:

5

Boss Name:

Genesis

Tier:

4

Description:

Religious in all aspects, this monk uses Chi as the main focal point of his fighting style combined with the key principles of Rokushiki.

Devil Fruit:

N/A

Haki:

Busoshoku Haki - B

Equipment:Strength:

3

Durability:

3

Speed:

4

Perception:

5

---

Boss Name:

Cipher Pol Agent 8

Tier:

3

Description:

Grunts that have achieved superhuman strength basically but have yet to master the principles of Rokushiki.

Devil Fruit:

N/A

Haki:

Kenbunshoku - B

Equipment:Strength:

4

Durability:

3

Speed:

4

Perception:

3

Boss Name:

Cipher Pol 1-6 Agents

Tier:

2

Description:

Grunts that have yet to achieve superhuman strength basically. Rokushiki mastery is but a dream for them one day.

Devil Fruit:

N/A

Haki:

Kenbunshoku Haki - C

Equipment:Strength:

3

Durability:

1

Speed:

1

Perception:

3
Pacifista :

Boss Name:

Alpha I & II

Tier:

2

Description:

Model I: Based off faceless puppets essentially, model ones are flimsy models specialising in firing infrared beams of light to pin point the target, firing gun shells from it's mouth. The kick of the shot rivals that of a pistol.

Model II: Improvement from the I model, instead of bullets, this model fires cannonballs. Five rounds per thread.

Devil Fruit:

N/A

Haki:

N/A

Equipment:

N/A

Model I:

Strength:

4 (Default)

Durability:

4 (Default)

Speed:

3

Perception:

4 (Default)

Model II:

Strength:

2 (Default)

Durability:

3 (Default)

Speed:

4

Perception:

4 (Default)

Boss Name:

Beta

Tier:

3

Description:

First trails of humanoid of Pacifista. These models fire both rifle rounds and cannonball fire if need be. The machines are modelled in the image of Cipher Pol Agent Hamon. As his genetics are the foundation of the project.

Devil Fruit:

N/A

Haki:

N/A

Equipment:Strength:

5

Durability:

3

Speed:

3

Perception:

5

Boss Name:

Completed Pacifista

Tier:

6

Description:  

This bad boy is the final product and is featured in the last stages of the arc. It's potential to capture big targets is immense. Each model can fire two Pika Pika type laser beams in succession before recharging for two posts.

Devil Fruit:

Can use abilities of Phase Phase Fruit partially to morph through surfaces.

Haki:

N/A

Equipment:

Built in Database

Strength:

5

Durability:

5

Speed:

5

Perception:

5
'Making an enemy of the World Government is like spitting in God's face. Only hell awaits you.'
Eris Latura - Cipher Pol Agent

Arc Type:
Standard | Turf War
Arc Name:
Ceasing The Metal Lotus
Arc Tier:
6
Sea:
Paradise
Island:
Alabasta | Tres Iron Lotus
Arc Description:
A
fter getting the modifications done on The Flying Dutchman, the Songbird's arrive in Alabasta to help their ally Rokuju Vinsmoke, alias Elena in her conquest of Alabasta. During the conflict, Junbei overheard an arms dealers talking about new melodic weapons that can heal any injury just by listening to it's sound. Curious, the Songbird Captain notices the melody is similar to Apollo's Trumpet on Skypiea. Alarmed, Junbei frantically asked the man the origins of the weapon. The dealer informed Junbei that the weapon came from a place called Tres Iron Lotus, a place where the World's Brightest Scientist meet to develop experiments far beyond the times. Protected by the Cipher Pol, the dealer exclaims only a madman would try to travel to Tres Iron Lotus without clearance from the World Government.
T
he thought of seeing Eris again plagues Junbei's mind, placing the notion before Rokuju and the Songbird's, Junbei asks his crew the most unreasonable task yet, breaking into Tres Iron Lotus. Astonished at first, Charlotte states that it might be good idea to solidify Junbei's name in the World by claiming the Metal Islands for himself. Placing the proposal before Rokuju, the collective efforts lie in claiming the Lotus and confronting the Cipher Pol Eight. However, as easy as it is to make these claims, Iron Lotus is surrounded by a bed of Sea Kings and Over Technology far more advanced than anything the World's Ever Seen. However, with Rokuju and Jade in the mix, if the Songbird's were to succeed, Junbei's fame would elevate to a level far beyond his current status.
Beginning - Charting The Plans :

Task Name:

After The Unrest

Tier:

1

NPC or PC:

PC

Location:

Alabasta

Crew, Team, or Personal:

Crew

Description:

After the unrest in Alabasta, the Songbird's take on some duly awaited downtime. Junbei decides to go into the city and shop for new tonfa for his collection, as well as, instruments for his newly formed band. During the shopping, Junbei stumbles across the melody that resembles Apollo's Trumpet from Skypiea.

Enemy Details:

N/A

Boss:

No

Task Name:

Trouble On My Mind

Tier:

1

NPC or PC:

PC

Location:

Alabasta

Crew, Team, or Personal:

Crew

Description:

After interrogating the salesman, Junbei finds out the melody came from a new war weapon called Tonka's Magic Music-box. The box has three settings, each utilises the power's of the Holy Instruments, Apollo(Trumpet), Athena(Harp) and Zeus(Drums). Each box is selling for 500,000,000 Million Beli and it's a hot commodity among the Dark World Dealers in Alabasta and across the globe.

Junbei begins to be unable to sleep at night, roaming around Alubarna's castle aimlessly, confronted by Rokuju, Junbei reveals that he wants to go to Tres Iron Lotus to see Isabella one more time and settle the score.  The Songbird's are divided on attacking a World Government protected area.

Enemy Details:

N/A

Boss:

No

Task Name:

If We're Going To Do This, Do It Right

Tier:

1

NPC or PC:

PC

Location:

Alabasta

Crew, Team, or Personal:

Crew

Description:

Finally, all of the Songbird's are on the same page and agree on raiding Tres Iron Lotus. Ricky warns the crew that attacking a World Government territory is ludicrous, far-less one with their Greatest Scientists in the mix. However, if they could somehow gain the schematics on each Iron Lotus layout, they'd be able to plan accordingly. After obtaining some information through Rokuju's information network, they're able to gain maps on the three islands that make the Lotus Isles, Momo Botan - Docking Capital City, Double Rose - Major Research Housing Plant and finally, Asiatic - White Lotus - Artificial Intelligence Centre and Control Centre for all three islands.

Enemy Details:

N/A

Boss:

No

Task Name:

When In Rome

Tier:

1

NPC or PC:

PC

Location:

Alabasta

Crew, Team, or Personal:

Crew

Description:

After coming to a conclusion, the crew decides to divide the Songbird's into three core forces. Junbei and Rokuju would raid Asiatic, rewiring the sonic pulses around Tres Iron Lotus to not only stop outside calls from escaping but shortening the range of the sonic pulses repelling Sea King's in the area, to run interference on any incoming ships. Jade's force will attack Momo Botan, creating a Stronghold in the port. The other Songbird's would attack Double Rose, disconnecting the underground Sea Bridge between Asiatic and Double Rose.

Enemy Details:

N/A

Boss:

No

At this stage, the arc will break into several parts.


Asiatic :



Task Name: Asiatic - Home of Artificial Intelligence
Tier: 2
NPC or PC: PC
Location:Tres Iron Lotus
Crew, Team, or Personal: Crew
Description:
After arrival on Asiatic via flight, Rokuju and Junbei began their infiltration into the enemies facility. However, the Cipher Pol 8 are fully aware of their actions and send a small army to intercept.
Enemy Details:
Pacifista Rejects Model Alpha Tier 2 - 100
Cipher Pol Agents - Tier 3 - x 150
Boss: No

Task Name: Breach In Permiter
Tier: 3
NPC or PC: PC
Location: Tres Iron Lotus
Crew, Team, or Personal: Crew
Description:
Breaking into the Asiatic's Largest Building, Regulus was quite the task. Junbei and Rokuju must locate the main artificial intelligence centre, altering the commands of the sonar pulses that surround the three islands. Along the way, passing by a recreational room in the facility, the duo kidnap a local scientist, Daisy forcing her to tag along with the rag tag team's siege.
Enemy Details:
Pacifista Rejects Model Alpha Tier 2 - 200
Cipher Pol Agents - Tier 3 - x 100
Daisy Cipher Pol Agent 8 - Tier 4
Boss: No

Task Name: Finding M.O.A.M
Tier: 2
NPC or PC: PC
Location: Tres Iron Lotus
Crew, Team, or Personal: Crew
Description:
Using his charm, Junbei makes Daisy fall in love with Rokuju, forcing the woman to reveal all the information needed to locate the Supercomputer simply known by locals as M.O.A.M - Mother of Artificial Maintenance. Attempting mechanically shut the duo out failed terribly and as such, the team makes it into the heart of Asiatic.  
Enemy Details:
Pacifista Rejects Model Beta Tier 3 - 300
Boss: No



Double Rose :



Task Name: Breaking The Sea Bridge
Tier: 2
NPC or PC: PC
Location: Tres Iron Lotus
Crew, Team, or Personal: Crew
Description:
Arriving at Tres Iron Lotus Research Island, the Songbird's advance towards the Northern Area, which connects Asiatic together. They're met with some interesting characters.  
Enemy Details:
Pacifista Rejects Model Alpha Tier 2 - 300
Cipher Pol 8 Agent - Carmel Tier 3
Boss: No

Task Name: Out of My Way!
Tier: 2
NPC or PC: PC
Location: Tres Iron Lotus
Crew, Team, or Personal: Crew
Description:
The conflict with Carmel leaves the Songbird's exhausted, however, they must fight feverishly because if Beta Pacifista reinforcements from Asiatic or more Cipher Pol, they'd be in even more trouble.
Enemy Details:
Pacifista Rejects Model Alpha Tier 2 - 200
Cipher Pol 8 Agent - Constantine Tier 3
Boss: No

Task Name: These Are The Breaks
Tier: 3
NPC or PC: PC
Location: Tres Iron Lotus
Crew, Team, or Personal: Crew
Description:
The Sea Bridge is burned to bits, time to get out... Like now. Retreat from Double Rose and meet back up with the Songbird's on Momo Botan!
Enemy Details:
Pacifista Rejects Model Alpha II Tier 2 - 200
Cipher Pol Agent - Malcom Tier 4
Boss: No




Momo Botan:


Task Name: Absolute Justice
Tier: 2
NPC or PC: PC
Location: Tres Iron Lotus
Crew, Team, or Personal: Crew
Description:
At the docks of Moma Botan, the Songbird's are engaged in combat from the sea, however, the members manage to make it to the surface. Juju and Jade moving ahead of the pack. Be-careful, if the ship's sunk, so is the plan, partially it is.
Enemy Details:
10 Land Mounted Cannons
250 T1 Militia Men
1 T3 NPC Officer - Jude
Boss: No

Task Name: Land-Ho!
Tier: 3
NPC or PC: PC
Location: Tres Iron Lotus
Crew, Team, or Personal: Crew
Description:
Making it onto the land escaping the dock, Jade's met with a much larger force than expected, lucky, it's Jade and the core songbird's facing the challenge. However, among the lot is are few Cipher Pol Agents.
Enemy Details:
250 T1 Militia Men
Cipher Pol Agents - Tier 3 - 2
Pacifista Rejects Model Alpha II Tier 2 - 200
Boss: No


Task Name: Ceasing The Port
Tier: 3
NPC or PC: PC
Location: Tres Iron Lotus
Crew, Team, or Personal: Crew
Description:
Locking down the perimeter, Jade gains control of the seaport with the forces of his men remaining. However, they're some remaining forces that be. Hamon, one of the most elite of the Cipher Pol is furious with the situation under Eris lead, storming into combat the invading scum.
Enemy Details:
Pacifista Rejects Model Alpha II Tier 2 - 200
Hamon - Cipher Pol 8 Agent - Tier 4
Boss: No


Task Name: Pride.
Tier: 1
NPC or PC: PC
Location: Tres Iron Lotus
Crew, Team, or Personal: Crew
Description:
Within weeks, the Songbird's have made a claim on Momo Botan's port. The main scientists of Momo Botan have a council meeting where the Cipher Pol 8's top brass lead, each arriving in Momo Botan from the Northern and Eastern Port. With Jade in the South, the Songbird's regroup for the next phase of the plan.
Enemy Details: N/A
Boss: No


Middle - Isolation Phase :

*These tasks don't run concurrently and any members of the Songbird's are free to knock them off to progress the story.


Task Name:

Glitch

Tier:

4

NPC or PC:

PC

Location:

Tres Iron Lotus

Crew, Team, or Personal:

Crew

Description:

Leading the charge, Juego uses his Phase Phase fruit to break into the heart of the Songbird's camp. He means business and refuses to even send ships out for reinforcements. However, even if he could, all of the Marine Warship's around Moma Botan were systematically destroyed. With the Sea King field dropped, even with the Sea Stone Hull's, raging sea King's on the outskirts of the island have now left a shipyard of vessels surrounding Tres Iron Lotus.

Enemy Details:

Juego - Cipher Pol 8 Agent - Tier 4

Cipher Pol Pol 8 Agents - Tier 3 x 200

Pacifista Rejects Model Alpha I Tier 2 - 100

Pacifista Rejects Model Alpha II Tier 2 - 100

Pacifista Rejects Model Beta Tier 3 - 50

Boss:

No

Task Name:

Counterstrike

Tier:

3

NPC or PC:

PC

Location:

Tres Iron Lotus

Crew, Team, or Personal:

Crew

Description:

Incredibly calm, Eris stays extremely calm, sipping tea in the fortress on Double Rose. She orders the Sea Bridges repair immediately, mobilising all of the scientists and their droids to lead the project. Using what remaining vessels she had in Double Rose, Eris moves all of the cities top scientists over to Asiatic. Unable to undo the damage done to the communications immediately, Eris releases the prototype for the first finished Pacifista. However, over on Moma Botan, Junbei and his forces now own run the city, gaining the scientists backing after presenting them with several chests filled with Diamonds.

Enemy Details:

Pacifista Rejects Model Alpha I Tier 2 - 100

Pacifista Rejects Model Alpha II Tier 2 - 100

Pacifista Rejects Model Beta Tier 3 - 100

Boss:

No

Task Name:

Owning Momo

Tier:

1

NPC or PC:

PC

Location:

Tres Iron Lotus

Crew, Team, or Personal:

Crew

Description:

News of Juego's defeat sends Eris into a slight hissy fit, regaining composure, the blueprints for the Semi-functional Pacifista comes into works. Due to the divide among the scientist community, it's completion was often delayed to personal interests. However, due to the current invasion, it's completion is almost near. The Songbird's gain control of the Momo Botan's port, revenues and forces. The current scientists help in the mass production of a robot army, to combat the World Governments remaining antagonists. Due to the natural rebellious nature of the scientists of Momo Botan, siding with Junbei gives them the thrill of creating before being potentially crushed by the World Government whose pretty much enslaved them due to their intelligence.

Enemy Details:

N/A

Boss:

No

Task Name:

Full-Scale Invasion I

Tier:

4

NPC or PC:

PC

Location:

Tres Iron Lotus

Crew, Team, or Personal:

Crew

Description:

Repairing the bridge between Moma Baton and Double Rose, Eris's superior Cain has had enough of the inadequate of the Cipher Pol 8 in this situation. Cain leads the charge, the Songbird's and Cain clash on Gideon Bridge begins.

Enemy Details:

Pacifista Rejects Model Alpha I Tier 2 - 1000

Pacifista Rejects Model Alpha II Tier 2 - 500

Pacifista Rejects Model Beta Tier 3 - 250

Cipher Pol 8 Director Cain - Tier 5

Boss:

(Yes or No)

Task Name:

Full Scale Invasion II - The Distraction

Tier:

4

NPC or PC:

PC

Location:

Tres Iron Lotus

Crew, Team, or Personal:

Crew

Description:

The conflicts leaves casualties on both sides and it's began to place a toll on both parties minds. However, Junbei had yet to meet Eris and decides to move solo, in attempts to linking up with Eris. In the shadows, Nico betrays the Songbird's, kidnapping the head of the Momo Baton scientists and fleeing to Double Rose. In the North, Jade overseas the building of the bridge between Momo Baton and Asiatic. However, a sea force begins a raid on the now half-completed bridge.

Enemy Details:

15 Tier 5 Warship's

500 Cipher Pol 8 Agents - Tier 3

Eris - Cipher Pol 8 Agent

Boss:

No

Task Name:

You We're Always My Toy

Tier:

1

NPC or PC:

PC

Location:

Tres Iron Lotus

Crew, Team, or Personal:

Personal

Description:

Junbei and Eris exchange conversation about their past and her reasoning for the actions committed against Junbei and her people.

Enemy Details:

N/A

Boss:

N/A

Task Name:

The Face of Pure Evil

Tier:

5

NPC or PC:

PC

Location:

Tres Iron Lotus

Crew, Team, or Personal:

Crew

Description:

Months pass after the meeting, Nico has now been seen as a traitor of the Songbird's. The bridge between Moma Botan and Asiatic is complete. The Songbird's begin their next campaign to conqueror the heart of the isles. However, all that awaits them is truly struggle.

Enemy Details:

Completed Functional Pacifista Tier 5 x5 (Fully functional Laser Canon)

Cipher Pol 8 Agent  - Ringmaster - Tier 4

500 Tier 3 Cipher Pol Agents

Boss:

No
End - Twin Lotus Possession:



Task Name: The New Face of Evil
Tier: 5
NPC or PC: PC
Location: Tres Iron Lotus
Crew, Team, or Personal: Crew
Description:
Eris has re-established connection to the outside world, it's been six months sense the hacking of the Songbird's. Eris has been appointed the new face of the Cipher Pol 8, and four new agents are to be send to replace the dead ones. Unable dock through regular means, the force arrive on a Skyship. Shamed to call for marine reinforcements, the Cipher Pol decide to handle this situation themselves. A full-scale raid on Moma Baton and Asiatic commences.
Enemy Details:
Kon - Cipher Pol 8 Agent
Sven - Cipher Pol 8 Agent
1,000 Cipher Pol 5-6 Agents - Tier 2
Boss: No

Task Name: The New Face of Evil II
Tier: 5
NPC or PC: PC
Location: Tres Iron Lotus
Crew, Team, or Personal: Crew
Description:
The war rages on, Junbei travels to Double Lotus to end the conflict with Eris once and for-all. More reinforcements arrive, two more airships carrying several members from Enies Lobby.
Enemy Details:
1,000 Cipher Pol 1-6 Agents - Tier 2 | Tier 1
Gensis - Cipher Pol 8 Agent
Ur - Cipher Pol 8 Agent
Boss: No

Task Name: Two Lotus
Tier: 6
NPC or PC: PC
Location: Tres Iron Lotus
Crew, Team, or Personal: Crew
Description:
The war comes to it's climax, Junbei and Eris clash, leaving Double Lotus in ruins. Junbei confesses his love for Eris, the woman scoffs, laughing at the man's claim, in a moment of weakness, someone suffers a fatal blow.
Enemy Details:
Eris - New Cipher Pol 8 Director - Tier 6
100 Cipher Pol Agents - Tier 3
1 Completely Fully Functional Pacifista
Boss: Yes (Staff controls Eris and Pacifista)

Task Name: Absolute Justice II
Tier: 6
NPC or PC: PC
Location: Tres Iron Lotus
Crew, Team, or Personal: Crew
Description:
Eris is defeated(hopefully), the Cipher Pol has suffered an immense blow. Iron Lotus has fallen in the hands of a pirate, however, Marine Headquarters catches wind of the situation, dispatching Shichibukai Kiretsu Morishige to stabilise the situation. However, Kiretsu has plans of his own.
Enemy Details:
Encounter Shichibukai Kiretsu and Crew
Boss: Yes

Task Name: Quatre Iron Lotus
Tier: 1
NPC or PC: PC
Location: Tres Iron Lotus
Crew, Team, or Personal: Crew
Description:
If they survive, the Songbird's have now gained Tres Iron Lotus but at what cost? Also, in the remainder months of the timeskip, the sonar pulses surrounding Tres Iron Lotus is restored. On the outskirts, hundreds of tone dials sending the Sea Kings into a rage to the South, makes it impossible to approach from the Marine Headquarter's Route to Tres Iron Lotus. A fourth island, Morning Song is built, which the three core cities are connected to. Using technology, Junbei reverse engineers with the scientists of Iron Lotus to connect his Oto Oto into the cities core.
Enemy Details: N/A
Boss: Yes




Last edited by Lazarus King on Thu Apr 06, 2017 10:01 pm; edited 1 time in total