Task Name:
Welcome to Hell
Tier:
3
NPC or PC:
NPC
Location:
Vulcan
Crew, Team, or Personal:
Personal
Description:
The son of the Gorosei Destiny Ridgets has just woken up floating in a pool of lava. Where is he? How did he get there? And why are people with swords chasing him around the place. Stygian realizing that he is on a island made completely of lava and volcanoes. He must escape from the people who are hunting him and from the island itself.
Enemy Details:
10t1 Lava Lizards, 50T0 Humans, 30T1 Humans, 10T3 Humans
Boss:
Yes
Boss Name:
Donny Accino
Tier:
4
Description: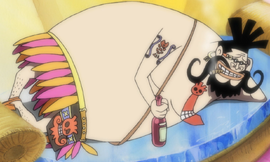 Donny is a very fat and greedy man who will do whatever he wants to get what he wants. He stands at 10ft tall and weighs around 500 pounds.
Devil Fruit:
Atsu Atsu no Mi
Haki:
Conqueror Haki
Equipment:
None
Strength:
4
Durability:
3
Speed:
1
Perception:
2


Last edited by Acheron on Wed Nov 16, 2016 3:42 pm; edited 1 time in total