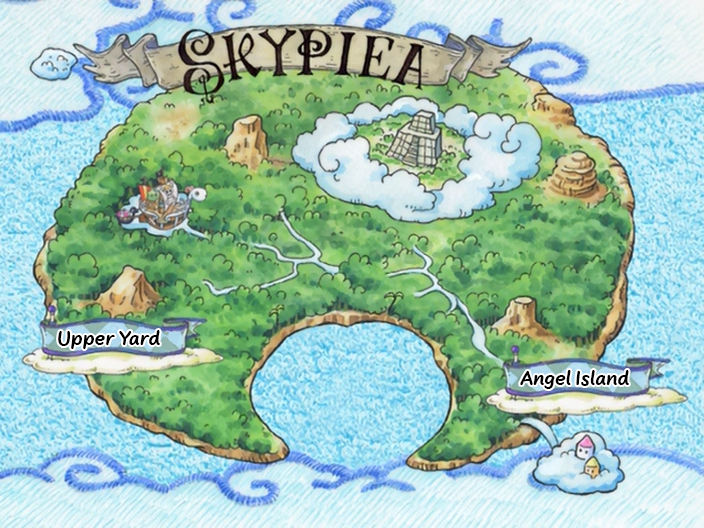 Arc Type:
Standard
Arc Name:
The Human Consensus Act
Arc Tier:
4
Sea:
Paradise
Island:
Skypeia
Arc Description:

'Land Dwellers started this cycle of hatred, I'll continue it.' - Lao Fall


Junbei, Jade, Mavis and the rest of the Songbirds advance to the Kingdom in the Sky, wait, it actually exists!? Welcome to Skypiea, land of the Winged People. Upon arriving however they are met with a ridiculous fine of 5.000.000 Beli and quite a few strange looks as they enter from the native Shandians. Junbei has noticed that a majority of the townspeople aren't exactly quite friendly towards 'Aliens' as they were labelled, actually tourists are pretty much discriminated against. What was Isabella's big hurry to travel to Sky all about? Meanwhile, the Royal Sky Army and a local faction of Revolutionaries are currently locked in a Civil War? The Kingdom of Skypeia has been taking humans and conducting grotesque experiments on them, claiming they can cure humans of their deformity by giving them wings? It just gets weirder and weirder by the second and the worst part is, the humans are on the losing side of things.
Note to PC's Not Within Songbirds:


This arc is pretty much for my crew and I. If you join in and can't keep with our activity, I'm skipping you within 48 hours, straight. Whether your engage in combat or not, I'm letting this be known now. This is just a disclaimer to wish-washy RPer's, one and all. Thank you and enjoy!

General Appearance Notice:

Winged are a race of people with wings that originate from Skypiea and are apart of one of it's three tribes. Birkans, Skypiens, and Shandians. Birkans' wings face downward while Skypiens' and Shandia's wings face upward. The wings of Shandia tend to have more and longer feathers than the Skypians'. The wings that are on their backs have yet to show any use or grant abilities beyond flight.

Winged Size

Maximum height for Wingeds i's up to 13ft tall. The size of the wings are up to your digression in each task.

Winged Bonus



Have the ability to naturally fly up to 30m high. Flight speed is equivalent to their own speed.




At Tier 3 they gain the ability to fly even higher allowing them to ascend to a total of 300m high. Flight speed is equivalent to their own speed.

Flight can be sustained for 7 Post with a 2 post cooldown. Hovering a few shallow inches off the ground counts as flying. Carrying people lowers you flight speed by one tier.

Birkan Bosses :

Boss Name:

Lao Fall

Tier:

4

Description:

Lao was once a kind and majestic king but after the abduction of his daughter by slavers, he's grown bitter, crude and heartless when it comes to policies on Human's coming into Skypeia. Still benevolent however to his people, the Kingdom has economically flourished under the man's reign. His sense for combat, chivalry and strategy is second to none. Lao is 5'9 in height and weighs almost 195lbs.

Devil Fruit:

N|A

Haki:

Mantra - Kami Kenbunshoku Haki - B

Equipment:

Modified Dial Lance - Faith - Seastone Imbued Tip & Impact Dial Embedded (T5)

Strength:

5

Durability:

4

Speed:

3

Perception:

3

Boss Name:

Prometheus

Tier:

4

Description:

Wolf Form:

Right hand to God and known throughout the Kingdom as the strongest sword fighter to have ever lived among the skies. He's extremely skilled in several forms of 'Mantra' and his combat ability is second to none. Prometheus also severely hates humans due to his wife to being sold to slavers, that wife, no, fiancee being Lao's daughter, Fan. Prometheus is a jolly fellow who walks around the town and amusement park, giving out candy and treats to the children of Angel Cove. He's very chipper and happy go' lucky until the topic of Humans comes into the picture. He stands at 7'1 in height and weighs, 199lbs in weight.

Devil Fruit:

Zoan Fruit - Inu Inu No Mi - Model Gray Wolf

Haki:

Busoshoku & Kenbunshoku - B

Equipment:

Legendary Blade - Kawazumi + Thunder Dial T4

Strength:

5

Durability:

5

Speed:

3

Perception:

3

Boss Name:

Lena Rivers

Tier:

3

Description:

Beauty, smarts, wit and bloodlust are all traits that describe Lena. Lena loves to fight and her skilled in archery is rumoured to be able to snipe aliens at Heaven's Gate from Angel Cove if need be. Her sense of perception is almost god like and her sensitivity towards the lost of life is tightly trained to even feel the emotions of those around her instantly. She doesn't exactly like the idea of experimenting on humans but believes in Lao's beliefs. Lena is 5'6 in height and weighs almost 130lbs.

Devil Fruit:

N/A

Haki:

Mantra - Kami Haki - Kenbunshoku - C

Equipment:

Flame Dial Bow - T3

Jet Dial Dial Boots - T3

Strength:

2

Durability:

2

Speed:

4

Perception:

5

Boss Name:

Henkia

Tier:

3

Description:

The mad scientist responsible for the human 'wing' modifications to Humans who enter into Skypeia. Losing both of his wings in a civil war, most of Henkia's body has been reversed engineered into a younger, human shell. With his trusty pet robotic sheep, the man works inside of the Upper Yard in his research facility on Human Modifications and human's alike. He's also keeper of several secrets, some of which can even end the current conflict between the Shandians, Birkans and Humans but at this current point, he's having way too much fun stop now. His IQ is nearly 200. Henkia is 7'1 in height and weighs almost 202lbs.

Devil Fruit:

N/A

Haki:

N/A

Equipment:

Robo Machine Gun T3

Robo Lightning Cannon T3

Impact Dial T3

Flame Dial Gun T3

Strength:

5

Durability:

4

Speed:

3

Perception:

3

Boss Name:

Birkan Soldier

Tier:

1

Description:

Each of them wear a standard suit of armour, followed by either a lance or sword. Each of them have basic pistols, each fuelled by Air Dials, releasing bullets with immense force.

Devil Fruit:

N/A

Haki:

Varies Depending on the Solider Generally D Rank.

Equipment:

T2 Lance or T2 Sword

Custom Air Dial Gun - 25 Shots

Strength:

2

Durability:

1

Speed:

1

Perception:

2
Shandian Bosses:

Boss Name:

Sango

Tier:

4

Description:

Sango is the leader of the Shandian tribe and known as the pack's wildest warrior. He's very in-tuned with nature and is a great hunter who utilises his surroundings to fight. His hatred for human's stemmed in the fact of the princess being kidnapped, as they were close child-hood friends and rivals. Sango is 6'3 in height and weighs almost 191lbs.

Devil Fruit:

N/A

Haki:

Mantra - Kami Kenbunshoku - B

Equipment:Strength:

5

Durability:

5

Speed:

3

Perception:

3

Boss Name:

Misa

Tier:

3

Description:

Misa is one of the fiercest warriors within the tribe and she's down for her multiple pistol gunslinging. She's mouthy, brash and realistic when it comes to the issue with humans, she loves hunting them.

Devil Fruit:

N/A

Haki:

Mantra - Kami Kenbunshoku - B

Equipment:

Thunder Dial Pistol - T3

Flame Dial Pistol -T2

Jet Dial Hook Gun - T2

Impact Dial Bazooka - T2

Strength:

4

Durability:

2

Speed:

2

Perception:

5

Boss Name:

Paulie

Tier:

2

Description:

He's the right hand man to the chief and the youngest ever to gain this position. Paulie gained this ranking through hard work and constant combat simulations within the Shandian's sparring tournament, 'Rumble'. He's hot headed, hates humans more than the next guy and quick to be a wise ass. Paulie is 5'9 in height and weighs almost 165lbs.

Devil Fruit:

N/A

Haki:

Kami Haki - Busohoku C

Equipment:

Flame,Imapct,Jet and Thunder Dial, T3

Jet Dial Bazooka T3

Strength:

4

Durability:

2

Speed:

5

Perception:

3

Boss Name:

Shikota

Tier:

2

Description:

Shikota's character is interesting to say the least, he's very well, quiet. Not by choice however as he lost his ability to speak several years ago in his youth. What he makes back for in his sign language and his incredible speed, using rare string dials, he's able to incapiciate his enemies. Kota is 5'9 in height and weighs almost 172lbs.

Devil Fruit:

N/A

Haki:

Kami Busoshoku - C

Equipment:

String Dial T3(Creates strings up to 30 Meters in Length) x 5

Liquid Dial - T3

Flame Dial - T2

Strength:

2

Durability:

3

Speed:

5

Perception:

4

Boss Name:

Yuri Yama

Tier:

1

Description:

He's Sango's protégé and the genius within the lot. Yama's swords style is second to none and often brags that in a few years he'll be able to out slash the clan leader but until then he's got tons of learning to do. Yuri is 5'8 in height and weighs almost 195lbs.

Devil Fruit:

N/A

Haki:

Kami Busohoku - D

Equipment:

Steel Sword with Impact Dial on it's blade - T2

Spear with Thunder Dial - T2

Strength:

3

Durability:

2

Speed:

3

Perception:

1

Boss Name:

Shandian Soldier

Tier:

2

Description:

They are much more aggressive and war trained than most soldiers. They fight individualistic manners as opposed to a team style like the Birkan's. Each are war-trained and very proud.

Devil Fruit:

N/A

Haki:

Kenbunshoku Haki - C

Equipment:

T2 - Lance | Sword | Spear

Custom Flame Dial Gun T2

Strength:

3

Durability:

2

Speed:

2

Perception:

3
Human Bosses:

Boss Name:

Ivan Mavers

Tier:

2

Description:

Ivan was sent by the Revolutionary Army to resolve the bad relationship between the Skypeia people and the lander dwellers, in hopes of the Revolutionary Executives forming good relationships with the Winged People. He's a bad boy rockstar type, whose always flaunting his power, even how little that maybe.

Devil Fruit:

N/A

Haki:

Busoshoku + Hasshoken - C

Equipment:Strength:

3

Durability:

3

Speed:

2

Perception:

2

Boss Name:

Ponde N' Moreie

Tier:

2

Description:

Ponde's eccentric personality stems from his desire to beat people up. Honestly, if he hadn't met the revolutionaries at a young age, he probably would've ended up as a big name rookie in Paradise. Nonetheless, his passion about the removal of slavery and discrimination amongst all races, regardless of location, culutre or race burns much more passionately. He's often seen chewing on licorice and has a tendency of choking on the last bit of it when nibbling.

Devil Fruit:

Guru Guru No Mi - Spin Spin Fruit

Haki:

Bushoshoku Haki - C

Equipment:

Leather Gloves with Titanium Bulbs by Knuckles - T3

Strength:

5

Durability:

2

Speed:

4

Perception:

2

Boss Name:

Mindy Mindy Coco

Tier:

1

Description:

Mindy is newbie to the revolutionary army and is pretty much the Head Quarters director for the Skypeia branch. She's not very combat savy but when it comes to running away, she's an ace above all other aces in a suit. She's very bubbly, out-going and constantly smiles even in the awkard or most disturbing situations.

Devil Fruit:

N/A

Haki:

N/A

Equipment:

Den Den Mushi x1

Camera Den Den Mushi x 10

White Den Den Mushi x1

Strength:

1

Durability:

2

Speed:

2

Perception:

1
Story NPC's :

Boss Name:

Chance Fall

Tier:

1

Description:

A human right activist whose sister was abducted by humans but she preaches that all human's aren't bad. Everyday she's ridiculed and looked down upon by her people for her ways. Despite her generally shy personality, she feverishly promotes the end to the Human Consensus Act and is in secret operations with the Revolutionary forces on Skypeia. Despite her looks and height, she's actually 25 years of age.

Devil Fruit:

N/A

Haki:

N/A

Equipment:

Tone Dial - Loudspeaker T2

Strength:

1

Durability:

2

Speed:

2

Perception:

1

Boss Name:

Raven

Tier:

3

Description:

The personal guard whose protected Chance his whole life, even forsaking her position as a Knight on the army to become the woman's personal guard. She's crude, cynical and quite mean spirited when it comes to combat but otherwise she's a pretty nonchalant person.

Devil Fruit:

N/A

Haki:

Kami Busoshoku Haki - C

Equipment:

Flame Dial Lance -T4

Strength:

5

Durability:

4

Speed:

2

Perception:

2

Boss Name:

Jack

Tier:

2

Description:

He's Chance's partner in crime and runs the most popular bar in Angel Cove called Haven. He's the eyes and ears of the operation, keeping her informed of the war between the Rebels and the Army. He's quite crafty himself.

Devil Fruit:

N/A

Haki:

Mantra - Kami Kenbunshoku - C

Equipment:

Impact Dial Club - T3

Strength:

4

Durability:

2

Speed:

3

Perception:

2
Tasks:

Beginning

Task Name:

Riding Knock Up Stream

Tier:

1

NPC or PC:

PC

Location:

Open Seas - Jaya

Crew, Team, or Personal:

Crew

Description:

The Songbirds journey to the Kingdom above via the tremendous sea current phenomena, Knock Up Stream!

Enemy Details:

N/A

Boss:

No

Task Name:

Robbery At Heaven's Gate - The Toll to Enter Heaven!?

Tier:

1

NPC or PC:

PC

Location:

Skypeia

Crew, Team, or Personal:

Crew

Description:

The Songbirds are caught at Heaven's Gate and forced to pay a ridiculous toll, they're arrival at Skypeia is delayed once again.

Enemy Details:

N/A

Boss:

No

Task Name:

Inspection! Shikota and the Shandian Forces Raid!

Tier:

2

NPC or PC:

PC

Location:

Skypeia - Milky Road

Crew, Team, or Personal:

Crew

Description:

Half-way up the Milky Road, members of the Shandian tribe raid a Predatory Bird for game. Shikota and his men place an eye on the Song Birds and engage one of them in battle in attempts to rob the ship of all it's loot before arriving at Angel Island.

Enemy Details:

Predatory Bird T3 - Mother Bird

Tier 2 Boss Shikota

Tier 2 Shandian Warriors x 50

Boss:

Yes

Task Name:

The Abduction of Two Song Birds!

Tier:

2

NPC or PC:

PC

Location:

Skypeia - Milky Road

Crew, Team, or Personal:

Crew

Description:

The conflict with Shikota's platoon cause Junbei and the gang to be split up. Shikota retreats, taking two hostages with him in his escape. Unable to stop the progression forward, the remainder of the crew arrives at Angel Island.  

Enemy Details:

Tier 2 Boss Shikota

Tier 2 Shandian Warriors - Reinforcements x 50

Boss:

Yes

Middle

Task Name:

Welcome to Angel Cove? The Birkan Army Mobilises

Tier:

3

NPC or PC:

PC

Location:

Skypiea - Angel Island

Crew, Team, or Personal:

Crew

Description:

After the last shenanigans in Lovely Cove, the hatred towards the Wingless are now on a all time high. Lovely Cove was left in ruin as results of an arial battle between two clashing parties! However, you've been located on the seen as one of the contributors of the destruction of housing, Lena Rivers, Pillar to God, Lao Fall's Faction, arrive to retrieve you.

Enemy Details:

Lena Rivers - T3 Boss

200 T2 Birkan Soldiers

Boss:

Yes

Task Name:

Escaping Angel Island - Raiding Upper Yard!

Tier:

3

NPC or PC:

PC

Location:

Skypiea - Upper Yard

Crew, Team, or Personal:

Crew

Description:

After defeating Rena on Angel Islands Cove, you are engaged once again by another platoon of fighters situated on the outskirts of Upper Yard. It's Shikota, he's returned with his rag-tag group of Shandia's to block your entry into the Yard, the conflict causes several animals in Upper Yard to run amuck.

Enemy Details:

Shikota - T2 Boss

Paulie - T2 Boss

Yuri Yama - T1 Boss

Shandian Warriors - T2 x 200

Boss:

Yes

Task Name:

Traversing Yard - The Revolutionary Army's Camp Revealed!

Tier:

1

NPC or PC:

PC

Location:

Skypiea - Upper Yard

Crew, Team, or Personal:

Crew

Description:

After mucking through Upper Yard, Junbei and the gang stumble upon several trip wire traps which use rare net dials to encase their enemies, all in all, the traps weren't that dangerous but they stumble upon the encampment of the Wingless.

Enemy Details:

N/A

Boss:

No

Task Name:

403 Found Deaf in Upper Yard!

Tier:

3

NPC or PC:

PC

Location:

Skypiea - Upper Yard

Crew, Team, or Personal:

Crew

Description:

Junbei gives the men no time to respond, he cares nothing about their story or rationale. If he was going to erradicate racism on Skypiea, the first step was the elimination of the Wingless Faction head leaders. With them gone, the remaining stragglers would stand no chance.

Enemy Details:

Ivan Mavers T2

Ponde N' Moreie T2

Mindy Mindy Coco T1

400 Tier 0 Grunts

Boss:

Yes

Task Name:

What Now?

Tier:

2

NPC or PC:

PC

Location:

Skypiea - Upper Yard

Crew, Team, or Personal:

Crew

Description:

The Shandia mobilise, drawing closer to the conflict caused by Junbei and has men, they find Junbei sitting up top the Revolutionary Army's Head Brass on Skypiea, Junbei has one request, to meet with the Shandia Chief about God!? However, they're not just going to take you to their leader, well, not without a fight?

Enemy Details:

T2 Shandia Warrirors - 100

Boss:

N/A

Task Name:

You Got A Lot Of Nerve

Tier:

3

NPC or PC:

PC

Location:

Skypiea - Upper Yard

Crew, Team, or Personal:

Crew

Description:

After delivering the Wingless deaf and defeated, Junbei offers to take them all back to the surface, for his 'own' plans. However, the Misa, the right hand woman to Sango, hates humans with a passion and refuses to let you see Sango after severely harming so many of her people. Sango agrees, believing in Misa's skills, she takes on Junbei and his men.

Enemy Details:

Misa T3 Boss

250 T2 Shandia Warriors

Boss:

Yes

End

Task Name:

I Am King?

Tier:

4

NPC or PC:

PC

Location:

Skypiea - Upper Yard

Crew, Team, or Personal:

Crew

Description:

During the conflict with Misa, her demise was imminent. Sango has seen enough and challenges Junbei to a spar. The battle is simple, if Junbei looses, he leaves Upper Yard and promises never to return to Skypiea. However, if he wins, Sango promises him that the Shandia will forever see him as their saviour for eliminating the Wingless Faction's Main Force.

Enemy Details:

Tier 4 Boss Sango

50 Of His Personal Guard x T2

Boss:

Yes

Task Name:

The Assassination of Lao Fall

Tier:

4

NPC or PC:

PC

Location:

Skypiea - Upper Yard

Crew, Team, or Personal:

Crew

Description:

The conflict came to a stalemate. During the fight, at God's Shrine, several nobles began to kill members of Lao's inner court. Henkia, reveals his army of home grown, Winged Humans, who each where Birkan costumes. Prometheus and Henkia's plot to become God and Cheer-God come to the fore front. Junbei and Sango find out about the conflict in Upper Yard, the two deepen their friendship with stories of Isabella and agree to attack the rebels in the morning. However, when they arrive, only Prometheus remains, Lao's head on steak.

Enemy Details:

Prometheus - T4 Pillar

300 T2 Birkan Human Soldiers (Winged)

Boss:

Yes

Task Name:

When the Dust Settles

Tier:

4

NPC or PC:

PC

Location:

Skypiea - God's Shrine

Crew, Team, or Personal:

Crew

Description:

The conflict stretches across Upper Yards, Sango and Junbei take on Prometheus together, and they arrive at the ruins on Skypiea. It's there that the trumpet of Apollo lies before Junbei. Playing the trumpet, Junbei rejuvenates everyone across Upper Yard, even the Wingless.

Enemy Details:

Ivan Mavers T2

Ponde N' Moreie T2

Mindy Mindy Coco T1

400 Tier 0 Grunts

Chance Fall

Raven - T3

Prometheus T4

Henkia - T3

Boss:

(Yes or No)


Last edited by Lazarus King on Mon Feb 20, 2017 9:51 pm; edited 9 times in total