Name:
Gideon O. Zion
Alias/Epithet:
Punch Drunk 'Punk'
Race:
Human
Gender:
Male
Age:
22
Mode:
 Hard 
Occupation:
Martial Artist | Shipwright
Affiliation:
Pirate
Tier:
Tier 2
General Appearance: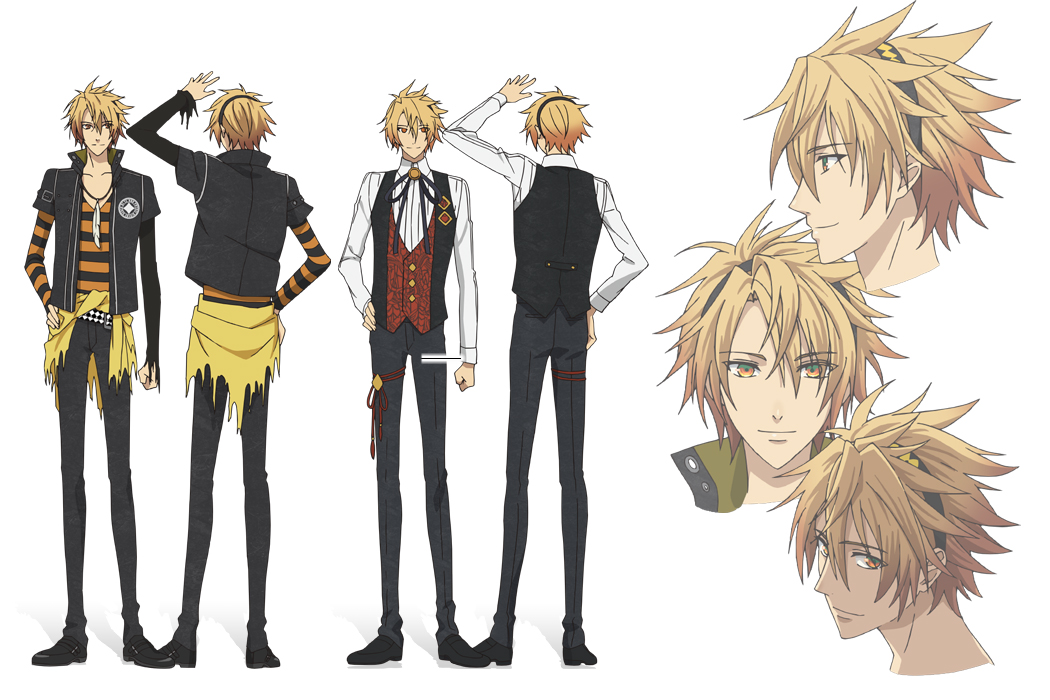 Dingy blonde, at times yellow if he washes it, Gideon's hairstyle is generally wild and unkept. The edges of his blonde spikes are black, in what appears to be black dye, however, it's an abnormality due to his mother carrying pure black hair and his father being birth with blonde hair. He wears a black and orange, striped shirt with a black, short-sleeved jacket. Around his waist he wears a variety of coloured scarves depending on his mood. He also wears black, tight jeans, a silver belt with a checkered pattern on it, and a pair of black shoes. His eyes are a combination of dark green on the top, orange on the bottom, yellow in the middle of the orange, and a round, black pupil. The back of his jacket reads the words, 'Punk'.
Height:
7'0
Weight:
189 lbs.
Crew Tattoo Placement:
On his back, under his neck read the word, 'Rotten'.
Personality:
Gideon is a man whose pretty much angry at the world. He's often found in grumpy moods, talking to himself as he stumbles through crowded areas. He starts most of his conversation in an authoritative and yelling like manner, which often takes people aback, however, he's not that bad of a guy, once not unsettled. He enjoys beer, to which he hates anything stronger and an occasional decent meal, also carries various accessories which feature a variety of goal chains around his neck. Despite being the offspring of nobles, Gideon has spent most of his time disliking his origins, swindling nobles of their money and possessions.
Gideon has always been an impatient child, which made learning something as delicate as boxing quite frustrating at first. He learnt to curve this anxiety by constantly chewing on licorice, black licorice to be more specific. He's often a hypocrite in this sense however, though he completely dislikes being kept waiting, he's always late when it comes to anything, especially when it comes to building ships, as it proves to be a very meticulous process for him. Despite his like for licorice, Gideon absolutely detests sweets and treats of any kind.
Aside from robbing pricks, Gideon's pastimes involve, jacking up the prices of ships, stealing ships, flipping ships and acquiring rare jewels which he uses as the cornerstone of his building practice. He's never had much friends in his childhood but has made a few in his adult years, so adjusting to being friendly as opposed to hostile, always comes with a force smile which usually looks as if he's either constipated or pissed off beyond imagination. He likes to end his phrases with weird buzz words like, 'Oi', 'Fam' and 'Punk'.  
Likes:


Wealth - Despite the attitude of nobles, he enjoys enjoying the comforts of life.

Conflict - Punching the face into those who deserve it to the point where they loose consciousness.

Beer - Anything stronger, he's out. Light weight.

Dislikes:


Uncleanly Women

Fake Gold

Crickets Noises

History:
Gideon's story commences truly from the age of ten, prior to this age, he had enjoyed a comfortable life at a private noble school, learning how to manage his father's shipping company in South Blue. However, disaster struck the Willow Kingdom, reigned under the Kingdom of Briss, when a group of pirates raided the village. Rape, Murder and Arson were the crimes that these pirates spread like wildfire, literally, throughout the Kingdom known for it's shipwrights. Gideon, stunned by the violence displayed before him, snapped from his usual quiet reserved self. Neither tears nor anger filled his heart as his 'loved' ones were murdered before his eyes, but a smile stretched on his face from cheek to cheek.
6'0, the height of the assailant who was resisting the rebel forces, the pre-teen destroyed the pirates with his gigantic fists and agile movements. It was like a switch had clicked, collecting the chains of every pirate he met on the way, Gideon asked the Captain who now placed a pistol to his head one question. "Why here?". When Gideon had found out the reason, he could only laugh out creepily in hysteria. They came searching for the Princess who was destined to marry the Briss Kingdom's crown prince. 'Really?', the man uttered in frustration and delusion. His laugh was struck because the Princess had left the Kingdom, four days in advance at fear of being raided due to the current war Briss was placed in with neighbouring Kingdom, which was weird as this was, though aligned with, a neutral Kingdom in the World's eyes.
'Why must I suffer because of the whims of the foolish people who run this country?', the child inquired, the pirate grinned as he responded to the child, 'Because with power, you can use your wealth to order anything brat. Your just a pawn to them. Doesn't matter, I'll ease your pain.' the Captain responded. Gideon was tied up, carried back to the ship, and dumped into the open sea later that night. After watching the pirates feast and celebrate for hours upon hours, he liked it. Especially the smell of blood and beer. He resolved that if this was his last day, so be it. He drank, partied and even shared the captain's many concubine until he himself was discarded. When Gideon came to, he was casted ashore on Karate Island, vomiting in disgust at himself from the festivities he had taken apart in.
It was on Karate Island that Gideon met his teacher, Lloyd. Lloyd was the local and top prize fighter on Karate Island, Lloyd took Gideon under his wing, teaching him the art of boxing. In the next, three years, it evolved into Kick-Boxing, after seeking various styles and by the time Gideon had reached eighteen, he was among one of the cruelest fighters on Karate Island. However, competitions never interest him. He'd often be a carpenter or sword for hire on local pirate ship vessels, travelling from town to town, raiding Noble Kingdom's for their riches and tossing disgusting pirates who betrayed his own personal code as castaways at sea. He promised to never let what happened to him, be forced upon any other child. This continued for three years, until he finally, he was issued with a small bounty on his head by the unified Kingdom's he had robbed. A long rap sheet of stealing ships, flipping ships and raiding large volumes of golden heirlooms.
His master found out about Gideon's reputation and expelled him as one of his pupils from the club. As such, Gideon entered his first competition that year, making to the Semi-Finals, before cutting out with the prize money and a local merchant ship, fleeing Karate Island. Gideon had know idea where this voyage will take him but as usual, he'll doing what he loves to do. Punching people, drinking beer and gaining power.
Upon entering Grandline, aside from the ruckus and blackmailing chain gained him fame in the South Blue, Gideon entered the Grandline by stowing away a merchant's vessel which was on it's way to the Pirates Den. Repeating what he was famed for in the South, Zion tossed the members of the ship off board, using the boat for smooth sailing towards Pirates Den, where he searches for crew and also, supplies to build a sturdier ship. Prior to this, his most notable crime was the issue in the Briss Kingdom, where eleven separate nobles were beaten to the point that they couldn't even remember who they were or where their houses where situated. All they remembered was the attacker bore the tattoo of 'Rotten' on his back, underneath his neck.
Face Claim:
Amnesia | Toma
(Only for Tier 2 Characters)
Bonus:
1,000,000 Bounty
Location:
Pirates Den


Last edited by Lazarus King on Fri Aug 19, 2016 6:33 pm; edited 1 time in total