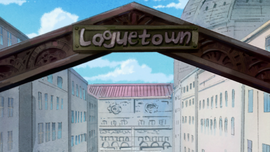 As Keiji arrives in Logue Town's dock, he sighs in relief. He smells the disgusting smell of marines and coughs. "This town is under marine influence. I better keep my cool and hide off." Keiji says as he ties his raft to a fence post. "That should do it" staring at the halfly made knot, then walks away from the dock only to overhear two marines talking.

"I heard that there was some mass gold coming in from the government to the bank."

"Yeah, I heard the same thing. I was told that the treasure was found on a deserted treasure ship."

"Serves the Pirates right, they shouldn't mess with the Marines."

When Keiji heard that a mass amount of gold was in town, he couldn't help himself but develop a plot to capture it. Yet, he didn't even know where it resided. He decided that instead of pursuing his dream for now, he'd scout the town for about a day or two, and find a place to sleep. Walking around the town, he finally understood how much this town had praised Marines. Luckily, he was yet to have a high enough bounty to be recognized by the Marine Grunts. He found a tall building with a sign that had " Hoteru" written on it. "Guess like this is a hotel I could stay in for about a day or two. Until I do what I have to do" Keiji whispers under his breath ready to enter the hotel.